Stop the standby!
"All devices have the potential to be vampire devices ~ sucking extra electricity while they're in standby mode"
Standby power is the energy used by an appliance while plugged in but not performing its central function. It is a regular feature of many consumer products that are controlled remotely, or require power to maintain internal clocks or memory functions.
Standby buttons. They may seem harmless, but our lazy-bum reliance on remote controls is also murdering polar bears. If you leave your telly on standby, it uses pretty much the same amount of power as if it was on. Ditto computers on screensaver, microwaves with digital clocks etc etc. http://www.inkycircus.com/jargon/2006/01/stop_the_standb.html
D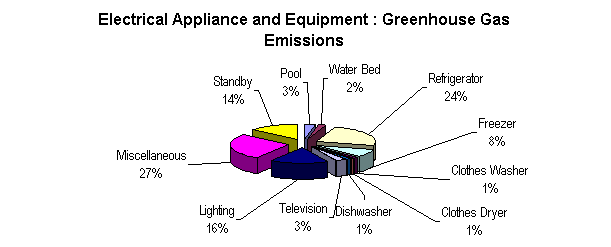 VD player that wasn't even playing a DVD into a watt meter, and it showed consumption of 11.32 watts with the power on.
You know those two little dots on your microwave? "Those two dots are responsible for three watts,"
TURN OFF ALL APPLIANCES AT THE WALL SOCKET WHEN NOT IN USE……
(Note: 'spar meters' are not available commercially.)
http://techalive.mtu.edu/meec/module13/images/appliance_cost.jpg
How to dramatically cut your electricity use:
These are the 4 key stages to making a difference:
| | |
| --- | --- |
| Appliance | Standby mode |
| Fax machine | 8.2 W |
| TV | 5.9 - 15 W |
| Washing machine | 5.2 W |
| Microwave | 3.9 W |
| Answering machine | 3.3 W |
| Cordless phone | 2.7 W |
| Battery-operated appliances | 1.9 W |
| Dustbuster | 1.3 W |

Step 1: Find out how much electricity you use at the moment

Step 2: Work out where the electricity is being used

Step 3: Identify and make savings, focussing on highest priorities

Step 4: Keep tracking your usage over time
B8_s5_1
Standby energy consumption
Standby consumption accounts for more than 10 per cent of Australia's household electricity usage, costing more than $500 million a year. It generates more than five million tonnes of carbon dioxide a year, the same greenhouse impact as running more than one million cars.
Most households contain appliances which consume electricity even when they are not operational. This is generally referred to as 'standby' energy consumption, and can amount to over 10% of total electricity used in a typical home.

Appliances and equipment with a standby mode include VCRs, televisions, home entertainment systems, air conditioners, battery chargers, whitegoods (except refrigerators), and any other equipment which consumes power while not performing its primary function.



Average standby

energy use (watts)

Annual cost

(approx.)

Television

10

$13

Clock radio

4

$5

VCR

8

$10

Stereo

10

$13

Mobile phone charger

1

$1

Personal computer

2

$2

Computer monitor

5

$7

Printer

8

$10

Microwave oven

4

$5

Cordless Phone

3

$4
AVERAGE CONSUMPTION per kWh / Year and Cost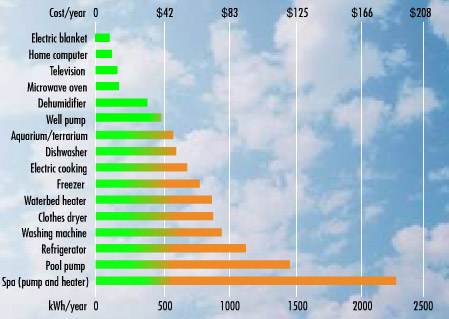 B8_s5_2