Re-use & Recycling ALWAYS APPLY THESE GUIDELINES
| | |
| --- | --- |
| Refuse | excess packaging and materials |
| Reduce: | the amount of materials you use by buying in bulk, repairing appliances and furniture instead of replacing them, and avoiding disposable products |
| Re-use: | containers, building materials and clothing: repair and sell things you no longer need and consider buying second-hand |
| Recycle: | everything you can't refuse, reduce or re-use. Check with your local council or state environmental authority to find what and where you can recycle |
W

hen out walking, collect discarded containers (for example, bottles and aluminium cans). Recycling a shopping bag full of containers saves at least five kilograms of greenhouse gas and reduces litter.
Large amounts of fossil fuel energy are used, and a lot of greenhouse gas is produced, when making the materials we use to build our homes and to make appliances and cars.
For example, making a kilogram of aluminium in Australia generates more than 15 kilograms of greenhouse gas and a kilogram of greenhouse gas is generated for every three house bricks.
Re-using and recycling these materials can recover much of this greenhouse gas.
R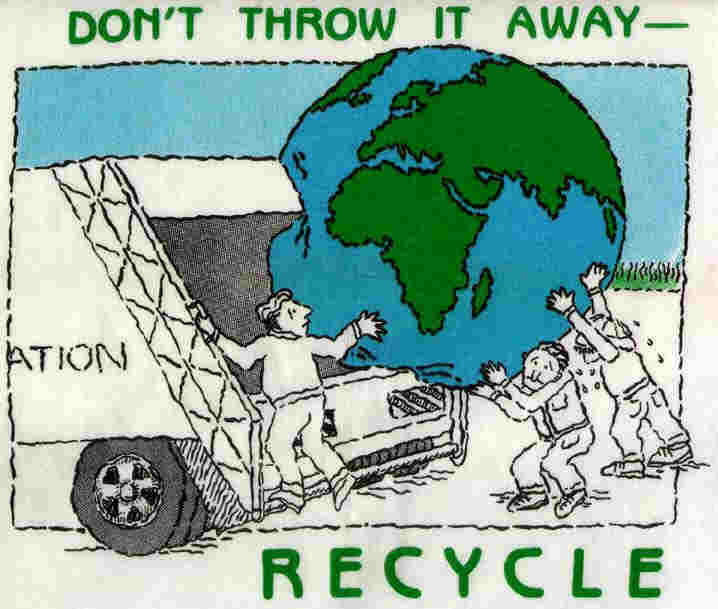 ECYCLE
By recycling you will be decreasing the amount of rubbish that goes to landfill. This in turn will reduce the amount of methane and carbon dioxide produced at landfill, which in turn will contribute towards a reduction in global warming.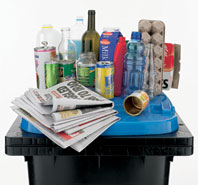 Why bury when you can easily reuse or recycle it?
Recycling reduces some of the need for new products and hence decreases the amount of raw materials that are required to produce new products.
Recycling reduces the environmentally damaging impacts of waste such as toxic substances and litter.
E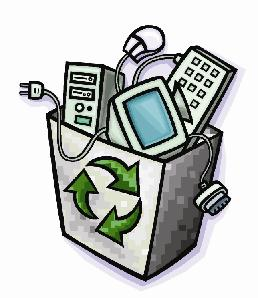 very week one recycling household saves enough electricity to run a 40 watt bulb for 72 hours and saves 3.6kg of solid waste.
Every tonne of glass recycled saves one tonne of raw materials such as limestone and sand. This means less quarrying, less damage to the countryside and less pollution.
Each tonne of paper recycled saves 15 average sized trees.
If we can reduce the waste disposed of in landfill, we can help save and the environment.
B8_s4_1
Tips to Reduce your waste
Avoid waste - look for ways of producing and using goods that stop waste being generated.

Reduce waste - choose products that can be used productively, recycled in your area and have minimal packaging.

Avoid products that are over packaged

Buy in bulk or buy refills to eliminate packaging

Buy products with recyclable packaging

Buy recycled products

Use lunch boxes at takeaway food outlets

Take calico bags, rack sack or boxes when you go shopping (most supermarkets and many retail outsets sell reusable shopping bags)

Take plastic bags back to supermarkets for recycling

Use 'No Advertising' sticker on your mail box.
SHOPPING BAGS The rise of the 'eco' totes ~ the I'm Not a Plastic Bag bags are actually even less "green" than customers realise: they are made in China (high polluters) using cheap labour, from non-fair trade, non-organic cotton - a fabric as environmentally damaging as plastic. Cotton accounts for 16 per cent of global insecticide releases - more than any other single crop. The bag was designed to raise awareness of the issue of the abusive use of disposable plastic bags, a goal which it has achieved internationally . But many shoppers reported that their I'm Not a Plastic Bag purchase was handed to them in... a plastic bag. SAY NO TO PLASTIC BAGS
Tips to Re-use AND Recycle your waste THIS IS WHAT HAPPENS TO YOUR RECYCLED MATERIALS
Re-use containers, packaging or waste products.

Buy second hand items or repair equipment instead of throwing it out

Take margarine containers and egg cartons to kindergartens and schools for craft activities

Take unwanted items - clothing, white goods and furniture to local charities or hold a garage sale

Carry your lunch in a reusable container rather than disposable wrappings

Re-use envelopes and use both sides of paper

Look for products in reusable, refillable or recyclable packaging when you shop

Use rechargeable batteries rather than single-use batteries. Please dispose of batteries at Designated Chemical Waste Collection sites

Use glass bottles and jars, plastic bags, aluminium foil and take away food containers over and over again before recycling or disposing of them. Use local Food Coops where you can fill your own jars again and again

Recycle waste material into useable products

Compost food scraps – enrich your garden and neighbourhood / grow food
B8_s4_2