LOUISVILLE, Ky. – Kenworth Truck Company introduced its new Kenworth T270 Class 6 hybrid-electric truck at the Mid-America Trucking Show.
"During steady driving conditions above 30 mph, the T270 hybrid operates like a standard diesel vehicle with all power coming from the engine,"said Mike Dozier, Kenworth chief engineer. "Below30 mph, it uses a combination of diesel and electricity. The system automatically switches between the two modes of operation and is seamless to the driver."
The goal for the T270 hybrid is to improve fuel economy by 30% in start-and-stop applications, such as utility trucks and pick-up and delivery.
The Kenworth hybrid uses braking events to generate and store electricity. The process is called regenerative braking. For medium-duty applications, such as for utility work, the T270 hybrid can be spec'd with an electric power-take-off (PTO). "A PTO can be powered using electric power. As the battery charge is depleted, the engine will automatically restart and recharge the battery in less than five minutes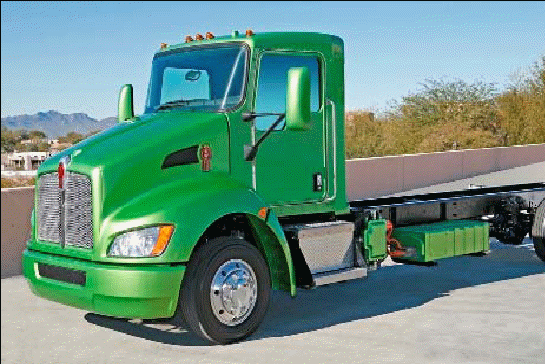 http://www.kenworth.com/
While we believe that hybrids are a step in the right direction, they still require fossil fuels and fully electric vehicles is what is needed and should receive government support and tax incentives. B2a_a2