Tornadoes in Australia
Most people associate tornadoes with the US, but tornadoes have been recorded in Australia since at least one hundred years.
The Bureau of Meteorlogy has 160 tornado reports on file in Victoria alone dating from 1918. WA, NT, Tasmania and southern QLD are also known to produce tornadoes.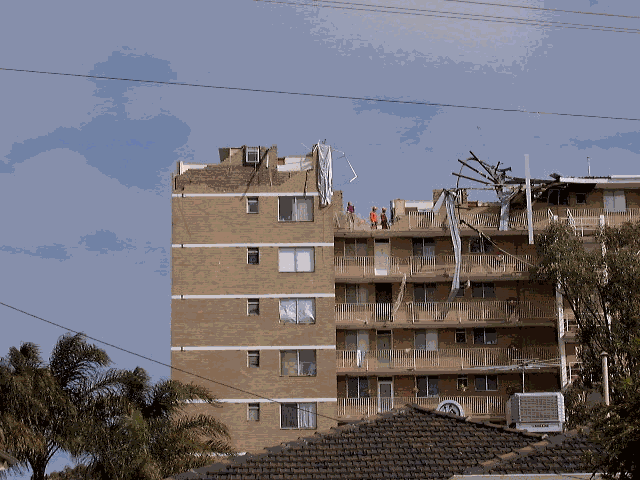 29.09.1992 – F3 tornado near South Kolan, near Maryborough, QLD (see image above) http://www.maths.uq.edu.au/
25.08.1999 – a 50-100 m wide and 8-9 km long tornado ripped roofs of buildings in Fremantle, WA. (see image left) www.bom.gov.au/
May 18 2003 – F2 tornado in Bendigo, VIC, cut a narrow swathe, ~500m wide and ~7km long, damaging over 50 houses. www.bom.gov.au/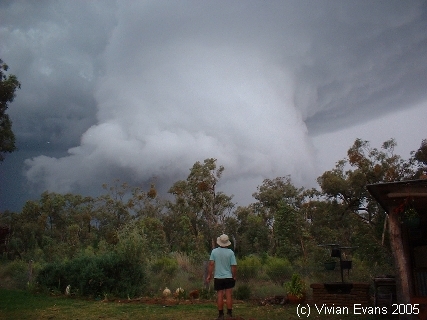 20th Jan 2005 – A tornado near Coonabarabran killed dozens of sheep and cows which happened to be in it's 300 meter wide and about 5km long path. http://msowww.anu.edu.au/~rmn/tornado.htm
Image on the right shows that Tornado forming http://mc2.vicnet.net.au/home/vivevans//web/storm.html
20 March, 2007 – Rangers at Kakadu National Park had a lucky escape when a 300m wide and 3km long tornado with winds estimated at between 230 and 270 km/h passed near the Mary River Ranger Station (image below). www.bom.gov.au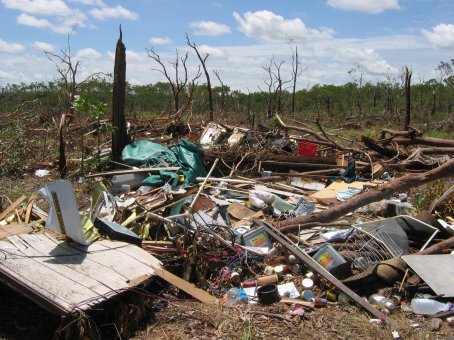 | | | | | | | |
| --- | --- | --- | --- | --- | --- | --- |
| F-Scale rating | F0 | F1 | F2 | F3 | F4 | F5 |
| Wind speed (km/h) | 62-117 | 118-178 | 179-250 | 251-333 | 334-419 | 420-511 |
While most Australian tornadoes have been F0 or F1 rated, the most intense was rated F4 on the Fujita scale
A5c_v1
Australia's Top Tornadoes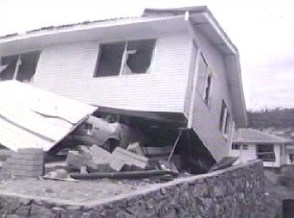 The Most Destructive
On the afternoon of 4 November 1973, intense thunderstorms built up west of Brisbane. One particularly active storm generated several funnel clouds, at least one of which touched down as a strong tornado west of the city. At one house in its path only the water pipes remained! The tornado continued through Brisbane's western and southern suburbs, damaging nearly 1,400 buildings casuing millions of dollars of damage. No deaths occurred, but many were injured. This tornado had a path length of 51km, with peak wind-speeds estimated at over 250km/h; however American meteorologists studying the event concluded that the wind-speeds could have topped 300km/h. This tornado remains the most damaging in Australia to date. www.bom.gov.au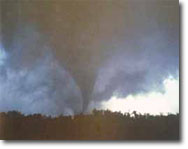 The Deadliest
Southern Queensland was also the site of perhaps Australia's deadliest tornado, with three people killed at Kin Kin (a small community between Gympie and Noosa) on 14 August 1971. www.bom.gov.au
The Most Intense (image on right)
On 29 November 1992 the most intense tornado was recorded in Bucca, west of Bundaberg, QLD - with a Fujita rating of F4. Cricket ball sized hail accompanied the storm. www.bom.gov.au
What can we expect in the Future?
It is prudent to expect and plan for even stronger tornadoes in Australia as global warming takes effect. Since 1% of all tornadoes cause for 67% of all tornado related death, any increase in tornado strenght and frequency can lead to large increases in fatalities and damages.
Maybe here a look to the USA can give us an idea of things to come:
06. Mai 2007 – A one mile (over 1500meters) wide tornado with about 330km/h winds killed nine people and destroyed 90% of buildings in Greensburg, southern Kansas. www.spiegel.de
Let's stop global warming before we get such monsters in Australia!
A5c_v2