Vanuatu: Climate Change Refugees
The tribal chief went first. And his people followed to be relocated to a higher ground due to rising sea levels. The U.N. Environment Program
A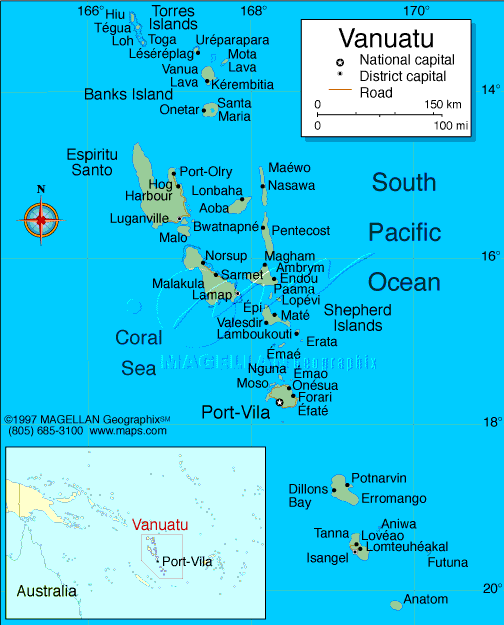 bout 100 villagers on Tegua (Tagua) Island, one of the Torres Islands in the far north of Vanuatu, were moved 600 meters (yards) inland where the ground is 15 meters higher. It is impossible to keep resettling villages farther inland because the biggest island in the Torres is about 16 km (10 miles) long and 3 km (2 miles) wide.
Tuvaluan Prime Minister Maatia Toafa told Reuters: "The prediction is in 50 years Tuvalu will not exist. Resettlement is impossible in the country because all the islands are low-lying." The highest point in the country is 5 meters above sea level
http://media.maps.com/magellan/Images/VANUAT-W1.gif
Following years of being exposed to the wrath of storm surges, king tides and aggressive seas, the tiny and remote settlement of Tegua, in Vanuatu's northernmost province of Torba, had to be relocated to higher grounds some 15 metres further inland.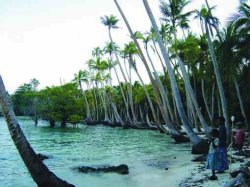 A settlement named Lateau in the Torba Province, Vanuatu had to relocate to higher ground due to constant flooding and coastal erosion of 2-3m every year.
Lateau was a low lying settlement (only 5 meters above the high water mark) and faced frequent inundation by storm surges and high tides.
From Tegua to Lirak... villagers had to be relocated due to king tides and aggressive seas.
http://www.islandsbusiness.com/islands_business/index A12_s5_1
In Vanuatu, an entire coastal village on the island of Tegua is being forced to move to higher ground, its huts flooded by surging seas.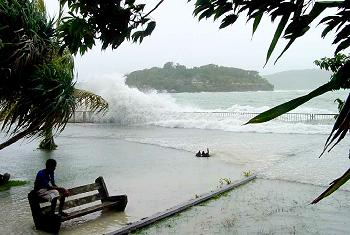 Due to severe water shortages on the island Lateau was on, villagers could not move to higher grounds. To best avoid flooding, they built their homes on piles of limestone rocks and firestoves in kitchens were also raised above the ground. Village grounds were always muddy and slippery and many children suffered malaria and water-borne diseases.
After their coastal homes were repeatedly swamped by surges and large waves linked with climate change driven storms, in August the villagers of Lateu were relocated to higher ground in the interior of Tegua, one of Vanuatu's northern provinces.
The high coral reef, Lateu's previous line of defense against high tides and waves, had ceased to protect the village and the coastline was eroding between two and three meters (seven to 10 feet) a year.
http://www.ens-newswire.com/ens/dec2005/2005-12-06-02.asp
)
Vanuatu is not the only Pacific island nation at risk of severe storms and rising sea levels brought on by climate change.
Tuvalu is a tiny constitutional monarchy made up of nine low-lying atolls, with a total land area of 26 square kilometers and an estimated population of 9,500.
Tuvalu dancers (Photo courtesy Tuvalu Ministry of Trade and Tourism
http://www.ens-newswire.com/ens/dec2005/2005-12-06-02.asp
A12_s5_2